Select Your Location From Dropdown List
Cremation Grounds
Our team of professionals is well-equipped to handle all aspects of repatriation, from documentation to transportation, ensuring that your loved one's remains are transported with dignity and care.
Steps To Be Done
Effortlessly plan a dignified farewell with our 3-step process - Quick, Reliable, and Hassle-Free.
Losing a loved one is a reality that is hard to face. It often leads to intense feelings of grief and distress. After all, death is not just the loss of a person but also of the many relationships they had in their lifetime. While the misery of loss takes time to heal, the first step towards healthy healing is to conduct dignified and respectful last rites of the loved one. For a long time in all religions and faiths, funeral and cremation ceremony have been a staple. They allow the mourning family to face the reality of loss, memorialize their beloved, and bid that well deserved farewell. In addition to this, sharing grief with relatives and friends reduces its intensity. Understandably, during such a low phase of life, it can get challenging to carry out the funeral. To make things a little easier for you, our team at Last Journey, take the entire responsibility of pre and post-cremation services.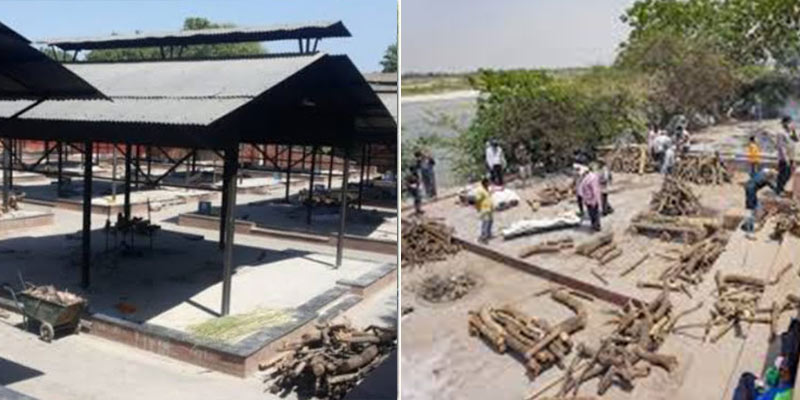 Demise is an event that doesn't come with a warning. It can happen at any time of the day, leaving the immediate family in shock and denial. Understanding this, our team offers end-to-end services for grieving families. We will coordinate with the cremation/burial ground; arrange for a hearse van, mortuary van, freezer box, Pandit, antim kriya samagri; and prepare for the Nanami (bier), and floral decor.
Here is a list of the list of Cremation Grounds in Ahmedabad along with the necessary contact details:
  Being a crucial part of the deceased's life, one must know that you have the option for a traditional wooden pyre cremation and an electric cremation process. Electric cremation an environmentally friendly option as a lesser amount of emissions are released into the air. The cremation grounds in Ahmedabad offer both wood pyre cremation and electric cremation. The cremation grounds are also known as Shmashanas and are a holy place brimming with grieving families conducting the final rites. They come here and hope for the peace and liberation of their beloved lost soul. Many religious scriptures have even given special instructions as to the location of the ground. Funeral traditions hold the ability to heal and assist the soul of the lost one in their further journey. We assure you of full commitment and compassion from our side. We will customize all our services as per your preferences.
We're here to help
Submit your concern and we will get back to you within 5 minutes**