Select Your Location From Dropdown List
Cremation Services in Hugli
It's always hard to say goodbye to your loved ones. We are aware of how difficult funerals may be, but it is our responsibility to make the process as easy and compassionate as we can. Although Last Journey can't make your pain go away, it can help you find some peace.
Steps To Be Done
Effortlessly plan a dignified farewell with our 3-step process - Quick, Reliable, and Hassle-Free.
Testimonials
Thank you for fulfilling my mother's last wish. Your team successfully managed to cremate my mother at her birthplace.
Anukool Sachdeva
Funeral Services
The prayer meeting organized by the Last Journey captured the personality and essence of my beloved
Sandeep Anand
Funeral Services
Despite the COVID situation in Delhi, your team organized for a dignified and graceful farewell of my mother.
Ruchi Sharma
Funeral Services
Cremation Services in Hugli
The team of professionals at Last Journey Funeral Services is made up of dedicated people who handle every aspect of funeral preparation with the highest respect, sympathy, and care. We take care of everything since we believe planning a funeral needs to be the last thing on your mind. You can depend on us in every situation. 
Why do people choose Hugli (Hooghly River) for the cremation of their loved ones?
Hugli, also spelled Hooghly, is a river in eastern India, primarily flowing through the state of West Bengal. The Hugli River is a distributary of the Ganges River, splitting from the main Ganges River near the city of Murshidabad in West Bengal. The Hugli River and its banks are culturally rich and are home to several historical and religious sites. Kolkata, located on the western bank, is a major cultural and economic hub of India.
In Hinduism, which is the predominant religion in India, rivers are often considered sacred and are associated with spiritual purification. Cremation of departed loved ones has deep cultural, religious, and historical importance in India, where the Hooghly River (often spelled Hugli River) is the site. The Hooghly River, a tributary of the Ganges River, is of utmost significance to Hinduism, the country of India's main religion. Hindus hold the belief that cremation and the subsequent disposal of ashes in sacred rivers such as the Hooghly, releases the soul from the cycle of reincarnation and gives it moksha, or freedom from the cycle of birth and death. For many families, Cremating loved ones beside the Hooghly River is a matter of cultural identity and a means of preserving the legacy of their family. It is regarded as a means of honoring their origins and keeping connections to their religious and cultural heritage. Cremating a deceased person's body and transporting it from Pune to Hugli or other places involves several steps, following a specific procedure and respecting cultural and religious customs.
Here are some steps to be followed by Last Journey: 
1. Freezer Box Services: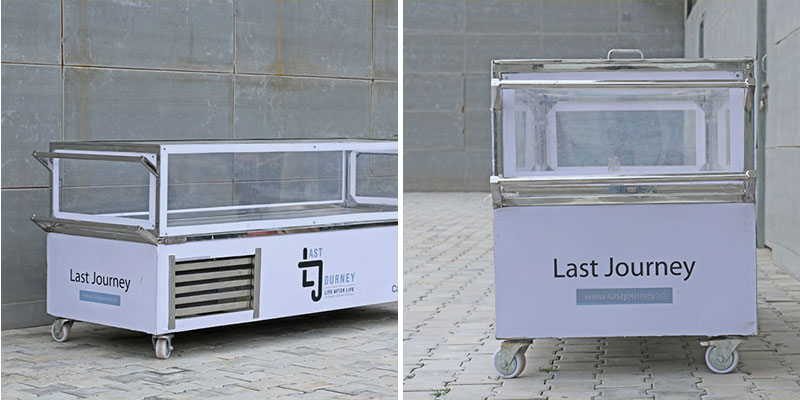 Last Journey typically uses a refrigeration unit or a mortuary cooler to keep the body cold until the final disposition or funeral arrangements are completed when a deceased body needs to be preserved. What sort of dead body icebox for rent you'll need to transport your loved one's body will be specified by Last Journey. All of our freezer boxes can accommodate different freezing methods. via these boxes, the bodies may be transported via standard ambulances, aircraft, helicopters, and trains. You'll need to buy a freezer box if you want to transport a deceased individual to another nation. Our dead body freezer box rental price varies from location to location. Families should speak with the Last Journey Professional about their particular requirements and preferences to make sure their wishes are carried out.
2. Dead Body Transportation:
Maintaining the deceased's dignity across short and large distances depends heavily on transportation logistics and preparation. Short-distance transportation requires careful preparation, taking into account factors like traffic, route selection, and timetable, to ensure comfortable and thoughtful travel. Long-distance travel necessitates even more complex planning, taking into account local weather conditions, regulatory requirements, and potential delays. To guarantee a courteous and dignified approach, moving a deceased body requires a number of measures. All of this entails planning for transportation, gathering the necessary paperwork, and budgeting for costs. Our service for moving dead bodies spans all of India. In order to ensure that the deceased are handled with respect and care while being transferred to their last resting place, moving dead dead bodies is a necessary and considerate service. Our professional team is experienced in navigating the challenges of moving a dead body while comforting grieving families.
3. Hearse Van Services:
When the deceased is being transported to their final resting place, the decorating on the Hearse Van is designed to convey respectful and solemn feelings. The Hearse van is decorated to pay tribute to the deceased and act as a dignified mode of transportation to their final resting place. These decorations are usually personalized to reflect the preferences and beliefs of the individual and their family in order to offer a respectful and sincere farewell. The hearse van's decorating is a creative and distinctive aspect of funeral rituals that honor the departed with respect while providing comfort and closure to the grieving family and friends. Last Journey's Hearse Van Services are decorated with the utmost care and attention to detail, evoking a respectful and solemn atmosphere that respects the memories of the departed. We work closely with families to make sure that the décor respects the deceased's preferences and any cultural or religious customs.
The purpose of cremation services is to facilitate the cremation procedure while also offering comfort and guidance to grieving families. Last Journey offers cremation services that include the respectful and honorable cremation of a departed person. We offer cremation and funeral services to help you get through this challenging period. We'll handle everything so you may spend this difficult time with your loved ones and friends. Losing a loved one is a challenging feeling to process, and it may affect your behavior. You might therefore put your entire faith in the cremation services offered by The Last Journey. In order to make sure that the preferences of their loved ones are respected, families should communicate their preferences and any special requests to the Last Journey professionals. Our team of professionals supports families at every stage and offers a variety of alternatives for designing a loving and respectable send-off for the departed.
5. Asthi Visarjan Services:
Asthi Visarjan is a Hindu ritual that involves immersing the ashes or cremated remains of a deceased person in a body of water, typically a river or the sea. With Asthi Visarjan, Last Journey offers support to grieving families through difficult times. We arranged the transportation of Asthi Viasrajan's cremated remains to the designated location. We make sure that Asthi Visarjan goes well so that the family can concentrate on their emotional and spiritual requirements. Our professionals understand the emotional significance of asthi visarjan, and they offer support and guidance to the grieving family throughout the process. We prioritize safety during the ceremony to ensure that the ashes are properly immersed in a way that respects environmental concerns and local regulations. The main objective is to assist the family in conducting a dignified and culturally suitable Asthi Visarjan for their loved ones.
Last Journey's aim is to pay tribute to the life and memory of the deceased. This can involve creating a meaningful and personalized funeral or memorial ceremony that reflects the person's values, beliefs, and interests. Our professionals offer emotional and practical support to grieving families and friends. We help them to deal with their loss and provide a safe space for them to express their feelings. We ensure that the deceased is treated with respect and dignity throughout the entire process, from the moment of death to the final resting place. 
We're here to help
Submit your concern and we will get back to you within 5 minutes**