Select Your Location From Dropdown List
Virtual Prayer Meeting Services
Our online prayer meetings are designed to be customized to meet the specific spiritual and religious needs of each individual and family.
3,000+
Successful Services
Steps To Be Done
Effortlessly plan a dignified farewell with our 3-step process - Quick, Reliable, and Hassle-Free.
Testimonials
I am so thankful for the caring and professional staff they made the process much less overwhelming.
Anirudh Das
Funeral Services
The services provided were exceptional. They took care of everything and made sure our loved one was laid to rest with dignity.
Monika Sharma
Funeral Services
Despite the COVID situation in Delhi, your team organized for a dignified and graceful farewell of my mother.
Ruchi Sharma
Funeral Services
Best Virtual Prayer /Zoom/Online Prayer Meeting Services
The Rituals of biding the last goodbye to the lost one run deep in each faith. But the ongoing pandemic has robbed us of these traditions, and not being able to mourn in peace with our loved ones is likely to leave an impact on us. A Funeral Prayer meeting is one tradition that serves a sense of calm amidst the chaos. It allows the distant family members of the bereaved to come together, pray, and pay condolences. The Prayers, devotional songs, and the blessings of our loved ones allow us to rise above our emotions and understand the true meaning of life. Realizing that our bodies are transitory but the soul lives forever is something that enables us to heal. To provide the mourning families with some measures of solace, the Last Journey brings the prayer meetings to you via zoom calls. Whether in distant villages or within International Borders, your family and friends can be with you during these difficult times.
Virtual Prayer Meeting
Offering prayers to the departed soul satisfy the family member or friend. According to the old traditional values, one should visit the place in person and offer the last set of prayers. But these days people are involved in their daily busy schedules and traveling for so long is not possible for them. Thanks to the technology that eases the ways of offering the last set of prayers. Online/ virtual prayer meetings are one of those ways. Last journey team arranges a setup for a virtual prayer meeting on the demand of the family members of the departed soul.
Why you should choose Last Journey for Arranging a virtual/Online Prayer Meeting?
Last journey organization is widely known in the field of funeral direction. The aim of satisfying its service users makes it different from the other organization in the same field. Here are some qualities that coerce people to choose last journey team for virtual/ online prayer meetings.
The team members are very proficient in arranging all the required equipment for virtual prayer meetings.
The members of last journey team know how to deal with the people who are mourning an unbearable loss.
The timely offering of service is the priority of last journey team that satiate the souls of grieving people. We as a team leave no stone unturned in providing services on time because that is our only way to sympathize with the mourning people.
Providing necessary things at the doorstep of service users also comes on our priority list so that the grieving people can avoid visiting many places and mourn their loss with other close people in peace.
Keeping transparency during the service offerings and paying help the team in satisfying the people who are dealing with a huge loss in their lives.
An online prayer meeting service is a virtual service that allows family and friends to memorialize and celebrate their deceased loved one while being on the same screen as others. These types of virtual services can be used to observe funerals, burials, and various other events such as celebrations of life, memorials, etc.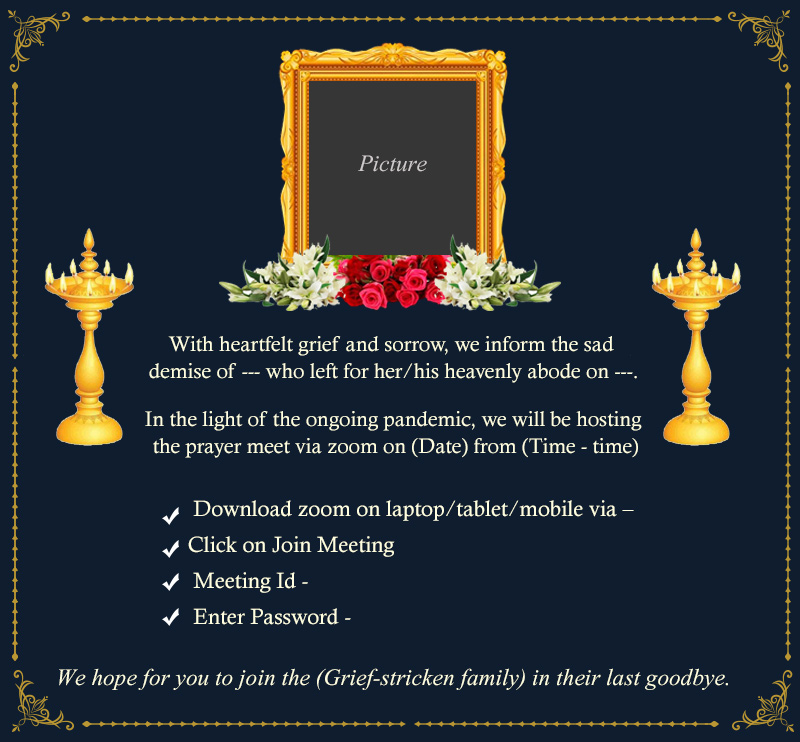 How to Lead a zoom Prayer Meeting?
The zoom prayer meeting will be a real-time event that will be covered and demonstrated from a particular location to all the family members, relatives, and friends. The rituals of the event bring about a sense of spiritual feeling, which help the soul attain enlightenment and allow the family to heal.
Keep in mind that all of these events must be Zoom-compatible. If you intend to have guests speak, make sure they are aware of the situation and have access to a webcam and microphone. Also, prepare any graphics or music ahead of time so they're simple to pair with Zoom.
It could be beneficial to have a single officiant. This could be a religious leader, a family member, or a funeral home representative. We will assign you pandit/purohit to officiate the meeting. Our staff will be available on the same Zoom link as well to provide you assistance if there is anything holding back. Our staff is not only experienced but also very proficient on how to schedule and interact within Zoom.  
Holding a meaningful service is what we aim for, and our team of experts will lead the meeting mannerly:
Deciding on the venue for the event
The first step is to decide whether the ceremony will be held at home or an external venue. Based on that, our team will figure out the arrangements and memorial props.
Guest list and dress codes
To show respect and honour for the deceased in a way that everyone would show in real life, it is essential to set have a practical guest list and dress code.
Planning on the series of events for the service
Since the team of the Last Journey will be overlooking the technical tasks and online streaming, you can focus on the funeral and the ceremony, rather than worrying about the technicalities.
Prayer meeting invitations
We will send e-invites well in advance to the invited list of friends and relatives. It is an easy process to attend and join the meeting.
Frequently Asked Questions
We're here to help
Submit your concern and we will get back to you within 5 minutes**