Select Your Location From Dropdown List
Cremation Services in Gaya
Last Journey is dedicated to easing the burden on grieving families by handling the arrangements of funeral or memorial service, allowing them the time and space to focus on remembering and honoring their loved ones. Our professionals are trained to provide care and support, ensuring that the entire process is conducted with sensitivity and respect.
Steps To Be Done
Effortlessly plan a dignified farewell with our 3-step process - Quick, Reliable, and Hassle-Free.
Testimonials
The services provided were exceptional. They took care of everything and made sure our loved one was laid to rest with dignity.
Monika Sharma
Funeral Services
The prayer meeting organized by the Last Journey captured the personality and essence of my beloved
Sandeep Anand
Funeral Services
I am so thankful for the caring and professional staff they made the process much less overwhelming.
Anirudh Das
Funeral Services
Cremation Services in Gaya
When a person loses a beloved family member he/she goes through unbearable pain and feels a void in life. Losing someone is a painful, terrible event that is beyond explanation. It's like an emotional earthquake that breaks the core of who we are, leaving an empty space that will never be completely replaced. 
Why is Gaya considered a highly sacred place in Hinduism and Buddhism?
Gaya, a city in the Indian state of Bihar, is considered a highly sacred place in Hinduism and Buddhism. This ancient city is renowned as a place of pilgrimage and a destination for performing the last rites and cremation of loved ones. According to Hindu tradition, Gaya is believed to be the very spot where Lord Rama, a revered deity in Hinduism, performed pind-daan, a ritual offering for the deceased, to his ancestors. This act has embedded Gaya in the hearts of Hindus as a sacred place where the souls of the departed find their path to liberation, known as moksha.
Families often maintain generations-old traditions of performing pind-daan in Gaya, considering it their solemn duty to ensure the spiritual well-being of their ancestors. The city attracts pilgrims year-round, who embark on a spiritual journey that combines the cremation of their loved ones with visits to its historic temples, including the UNESCO World Heritage-listed Mahabodhi Temple, which is significant in Buddhism. With its rich cultural heritage and well-established facilities for funeral rituals, Gaya remains a vital center for religious devotion and ancestral homage.
Why do people choose Gaya as a place to cremate their loved ones?
Gaya is considered one of the holiest places in Hinduism and Buddhism. Families choose Gaya for cremation and post-death rituals to ensure that their loved one's souls find peace and liberation. It is believed that performing these rituals in Gaya can have a positive impact on the spiritual journey of the deceased. Many people believe that performing post-death rituals in Gaya can provide spiritual benefits for both the deceased and their living Family members. Gaya may be chosen based on astrological or timing considerations. Families may believe that specific astrologically auspicious times or dates are ideal for performing the last rites and rituals. Cremating a deceased person's body and transporting it from Chandigarh to Gaya or other places involves several steps, following a specific procedure and respecting cultural and religious customs. Here are some steps to be followed by Last Journey: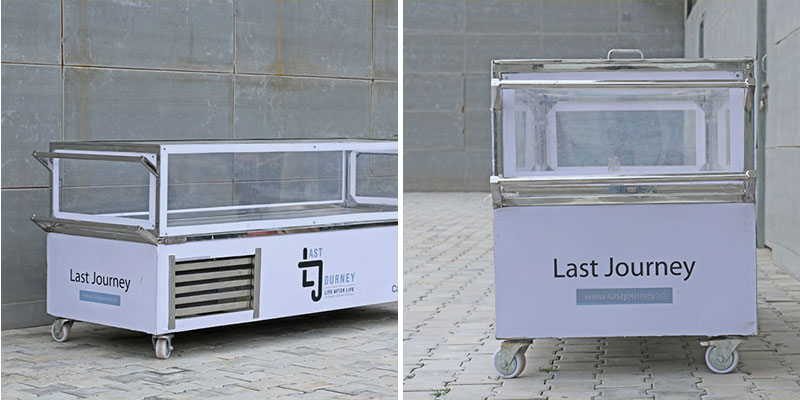 The last rites are the most important aspect of the funeral ceremony. In many situations, you are required to transport the deceased body to other places since they can hold some value for the lost one. In other cases, immediate family members and friends are located a short distance away and must go to the scene of the death. In this situation, you must conserve the body to ensure that everything proceeds well. Last Journey provides a freezer box for dead bodies to assist you during such difficult times. These services involve the use of a refrigerated or freezer unit to preserve the body, preventing decomposition until funeral arrangements can be completed. Each freezer box Last Journey offers is capable of handling different freezing processes. hen these boxes are used, the bodies may be transported via standard ambulances, planes, helicopters, or trains. If you wish to send a deceased person to another country, you will need to purchase a freezer box. Our dead body freezer box rental price varies from location to location.
It's important to note that the families should communicate their preferences and needs with our professional to ensure the appropriate use of freezer box services during the funeral planning process. These services play a crucial role in preserving the dignity and integrity of the deceased's remains and in facilitating the overall funeral process.
2. Dead Body Transportation
Dead Body transportation, also known as repatriation, involves the process of moving a deceased body from one location to another. Last Journey ensures that the deceased is transported safely and with dignity to their final resting place or the location of their funeral arrangements while providing support to the grieving family. We are well-versed in the legal requirements associated with transporting deceased individuals. Families may choose to be present during the transfer or meet the deceased at the destination. We work closely with the family to accommodate their preferences and provide emotional support. All of this involves preparing for transportation, gathering the necessary paperwork, and budgeting for costs. Our service for moving dead bodies spans all of India.
It is important to note that our professional team is to ensure a smooth, respectful, and compassionate process for the family and the deceased, regardless of the destination or specific requirements. Our professionals are there to support you during a difficult time and ensure that your loved one is treated with the utmost care and respect.
3. Hearse Van Services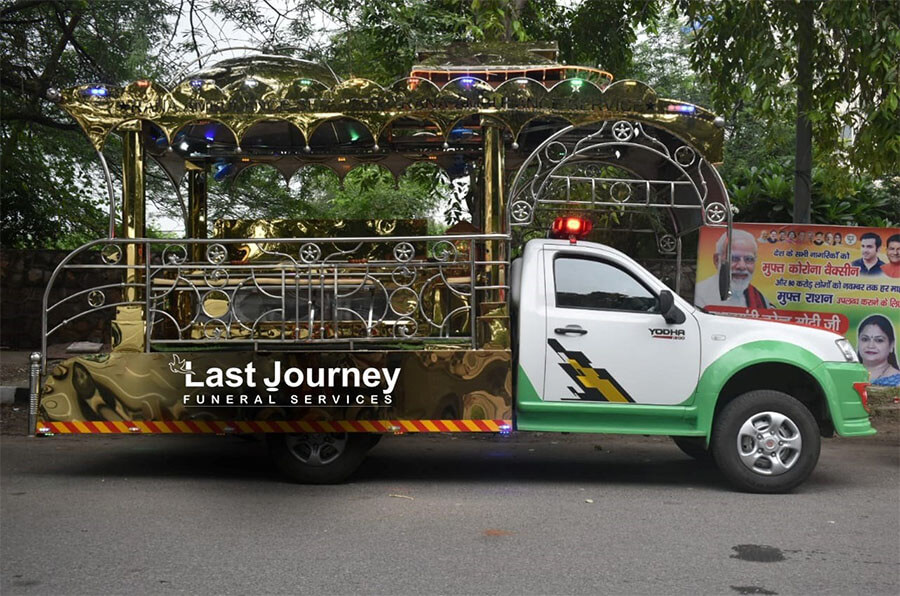 Hearse van decoration involves customizing and adorning the hearse vehicle that transports the deceased to the funeral or burial site. Another approach to show respect is to reserve the funeral van of the deceased's choosing. The Last Journey team provides a variety of hearse vans and decorates them with distinctive and desired floral adornments. Services within the hearse trucks are equally crucial for giving the departed soul calm and comfort. You may view the preparations we make inside the funeral vehicle to ensure that the departed individual can make his or her final journey without problems.
It's important to note that hearse van decoration may change depending on cultural, religious, and regional preferences as well as the services provided by the Last Journey. We work closely with the family to understand their preferences so that we can design a presentation that really respects the departed.
4. Cremation Services
Cremation services are designed to provide families with a range of options and flexibility in creating a meaningful and respectful farewell for their loved ones. Last Journey guides families through each step, ensuring that the deceased is treated with the utmost respect and dignity during the entire process. We handle the necessary paperwork, including obtaining the required permits for the cremation process. This ensures compliance with local regulations. Families typically consult with our professionals to make cremation arrangements. We'll handle everything so you may spend this difficult time with your loved ones and friends.
It's important to note that our professionals help families with every step and offer a range of alternatives to design a heartfelt and respectful farewell for the departed. Families should share their preferences and any specific requests with the Last Journey professionals in order to ensure that their loved one's desires are honored.
Asthi Visarjan is a deeply spiritual and emotionally significant ritual in Hinduism. It signifies the belief in the eternal cycle of life, death, and rebirth and it allows the family to bid a final farewell to their loved one while seeking blessings for their soul's onward journey. The specific customs and rituals associated with Asthi Visarjan can vary among different Hindu communities and regions. Last Journey provided assistance and support for families in conducting the ritual of immersion or scattering of a deceased person's ashes. The last Journey team helps to ensure that this sacred Hindu ritual is performed with care, respect, and relevance to the cultural and religious customs.  We ensure that Ashti Visarjan proceeds smoothly, allowing the family to focus on their spiritual and emotional needs.
It's important to note that our professionals ensure that all logistical and ceremonial aspects are handled efficiently and respectfully, allowing the family to focus on their emotional and spiritual connection to the deceased during this sacred event. Families have the flexibility to customize the Asthi Visarjan ceremony to align with their specific cultural, religious, and personal preferences.
At Last Journey, we understand the importance of honoring the life of the deceased and providing closure for their loved ones. Our funeral and cremation services are designed with compassion and empathy to ensure that every aspect of the end-of-life journey is handled with care. Our team of experienced professionals is dedicated to guiding you through this difficult time, offering support and comfort every step of the way.
Our aim is to provide compassionate and comprehensive support to grieving families during one of life's most challenging moments. We ensure that the deceased is treated with the utmost respect and dignity throughout the entire process, from death to final rites. Our team of professionals working towards conducting dignified last rites for your loved one.
We're here to help
Submit your concern and we will get back to you within 5 minutes**