Select Your Location From Dropdown List
Cremation Services in Ujjain
Last Journey's funeral and cremation services provide a compassionate and dignified way to honor the lives of those who have passed away. From funeral planning to casket selection, urns, and ash scattering, our services offer a range of options to suit every need and budget. Our commitment to honoring the departed, supporting grieving families, and ensuring dignity and respect sets them apart.
Steps To Be Done
Effortlessly plan a dignified farewell with our 3-step process - Quick, Reliable, and Hassle-Free.
Testimonials
Despite the COVID situation in Delhi, your team organized for a dignified and graceful farewell of my mother.
Ruchi Sharma
Funeral Services
I am so thankful for the caring and professional staff they made the process much less overwhelming.
Anirudh Das
Funeral Services
Thank you for fulfilling my mother's last wish. Your team successfully managed to cremate my mother at her birthplace.
Anukool Sachdeva
Funeral Services
Cremation Services in Ujjain
Losing someone is an awful, painful experience that cannot be explained. The magnitude of the loss can be devastating and have an impact on every part of our lives, including our daily routines and sense of identity and purpose. We recall the beautiful moments spent with our loved ones, as well as the laughter, the wisdom, and the love that enriched our lives.
Why is Ujjain known as "Sapta Puri" in Hinduism?
Ujjain is a historic city located in the Indian state of Madhya Pradesh. It is one of the oldest cities in India and holds immense religious and cultural significance. Ujjain is an ancient city beside the Kshipra River in the central Indian state of Madhya Pradesh. An important Hindu pilgrimage destination, it's known for the centuries-old Mahakaleshwar Temple, a towering structure with a distinctively ornate roof. Nearby, Bade Ganesh Temple houses a colorful statue of Ganesh, the elephant-headed Hindu deity. Harsiddhi Temple features a pair of tall dark pillars studded with lamps.
Ujjain is known as one of the "Sapta Puri" in Hinduism, which refers to seven holy cities that are considered extremely sacred and spiritually significant for devout Hindus. The term "Sapta Puri" translates to "Seven Cities" in Sanskrit, and each of these cities has its own religious and mythological significance. The belief in the holiness of these cities has ancient roots and is deeply ingrained in Hindu tradition. The other holy cities or 'Sapta puri' in Hinduism are Ayodhya, Mathura, Haridwar, Varanasi(Kashi), Kanchipuram, and Dwarka. It is particularly renowned for its association with Lord Shiva and is home to the Mahakaleshwar Jyotirlinga, one of the twelve sacred shrines dedicated to Lord Shiva. The city's religious importance makes it a prominent pilgrimage destination for Hindus.
People Choose Ujjain as a place to cremate their loved ones:
Ujjain has a rich history and cultural heritage, dating back thousands of years. Its association with Hindu mythology and ancient traditions adds to its appeal as a place for cremation. The city's historical temples and ghats along the Shipra River provide serene and spiritually charged settings for these ceremonies. Many Hindus believe that carrying out the funeral rites in Ujjain will help the deceased person's soul on its path to moksha. People prefer Ujjain for cremation because of this belief in the purifying impact of the city's spiritual aura and its sacred waters. Ujjain also hosts the Simhastha Kumbh Mela every 12 years, during which millions of pilgrims gather to take part in rituals and bathe in the holy waters of the Shipra River. Some families choose this auspicious occasion for cremation, believing it to be a spiritually charged and opportune time for the soul's transition.Cremating a deceased person's body and transporting it from Gurgaon to Ujjain or other places involves several steps, following a specific procedure and respecting cultural and religious customs. Here are some steps to be followed by Last Journey: 
1. Freezer Box Services: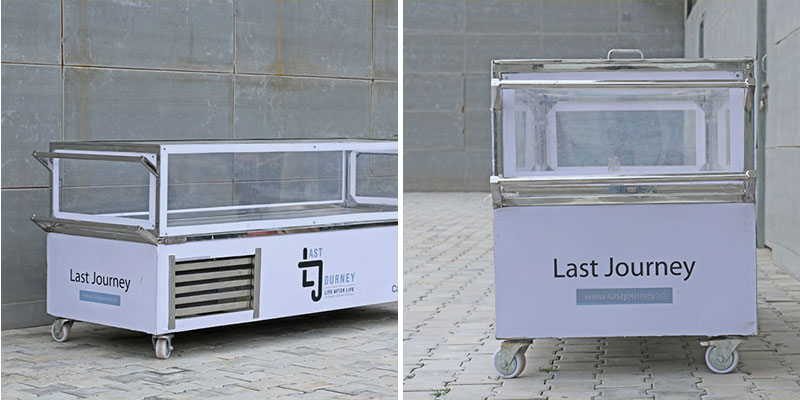 We often use a refrigeration unit or a mortuary cooler to keep the body of the deceased cold until its final disposition or funeral preparations. Last Journey typically arranges for the transportation of the body to their facility. Last Journey will advise you on the kind of dead body icebox for hire you'll need for the transportation of your loved one's body. Freezer boxes are designed to provide a regulated atmosphere that inhibits the growth of microorganisms and slows down the body's natural decomposition process. It is essential to maintain a regulated temperature, particularly in hotter areas where decomposition can happen quickly. If you want to send a deceased body to another country, you will need to buy a freezer box. The cost of renting our dead body freezer box depends on location.
It's important to note that families should discuss their particular requirements and preferences with the Last Journey Professional to ensure that their wishes are honored. This service is offered by funeral homes as a way to help bereaved families at a difficult time by offering a considerate and practical solution for temporary body storage.
Dead body transportation is a crucial service that makes sure that a departed person travels respectfully and dignifiedly to their ultimate resting place or to attend to other needs while taking into consideration the cultural and emotional needs of the family. Last Journey ensures that the deceased is transported safely and with dignity to their final resting place or the location of their funeral arrangements while providing support to the grieving family. We are well-versed in the legal requirements associated with transporting deceased individuals. We work closely with the family to respect their wishes and offer comfort. To ensure a respectful and dignified approach, moving a deceased body requires a number of measures. All of this involves strategies for transportation, obtaining the necessary paperwork, and budgeting for costs. Our service for moving dead bodies spans all of India.
It is important to remember that moving dead bodies is a necessary and compassionate service that ensures the departed are treated with respect and care while being transported to their final resting place. Our professional team is skilled in navigating the difficulties of moving a deceased corpse while consoling bereaved families.
3. Hearse Van Services: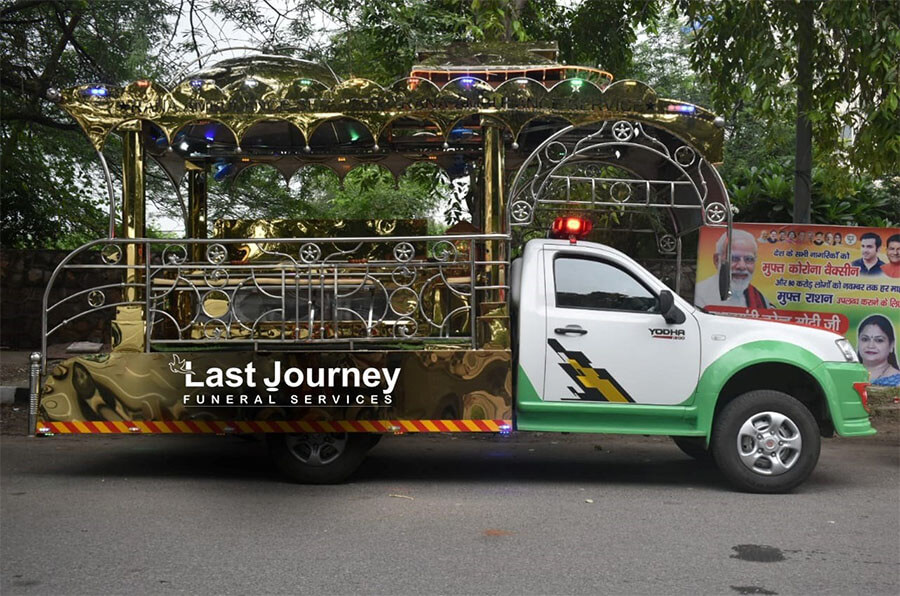 Hearse van decoration is intended to provide respectful and solemn emotions during the transfer of the departed to their last resting place. The Hearse van is decorated to honor the departed and serve as a respectful way of transportation to their place of ultimate rest. In order to ensure a dignified and heartfelt farewell, these decorations are frequently customized to represent the tastes and values of the individual and their family. The decoration of the hearse van is a thoughtful and unique feature of funeral ceremonies that pays a respectful homage to the deceased and gives consolation and closure to the mourning family and friends.
It's important to note that Last Journey's Hearse Van Services are decorated with the utmost care and attention to detail, evoking a respectful and solemn atmosphere that respects the memories of the departed. We work closely with families to make sure that the décor respects the deceased's preferences and any cultural or religious customs.
4. Cremation Services:
Cremation services are designed to meet the specific wishes and cultural or religious practices of the family and the deceased. When families choose to have a loved one cremated as their last disposition, Last Journey offers them a variety of alternatives and assistance. In order to ensure that the departed is handled with the highest respect and dignity throughout the whole process, Last Journey assists families through every phase. We handle all the paperwork, including obtaining the cremation process's necessary permissions. This ensures adherence to local regulations. Families typically consult with our professionals to make cremation arrangements. We'll handle everything so you may spend this difficult time with your loved ones and friends.
It's important to note that  Families should share their preferences and any specific requests with the Last Journey professionals in order to ensure that their loved one's desires are honored. Our professional team assists families through every phase and provides a range of options for creating a loving and dignified send-off for the deceased.
5. Asthi Visarjan Services:
Hindu ceremony known as Asthi Visarjan has significant cultural and religious value. It signifies the passage of the body's final step towards the afterlife, allowing the soul to pass quietly into it. It is a lovely and profoundly moving tradition that enables families to say goodbye to their loved ones in their final moments while upholding their religious and cultural traditions. The bereaved family is supported and helped by Last Journey throughout this difficult and important occasion. We make sure Ashti Visarjan goes well so that the family may concentrate on their emotional and spiritual requirements. Our professionals play a crucial role in supporting the process with respect and sensitivity, to ensure that the family's and the deceased's wishes are carried out with the utmost care. Families have the flexibility to customize the Asthi Visarjan ceremony to align with their specific cultural, religious, and personal preferences.
Last Journey professionals offer emotional support, providing a comforting presence and a listening ear as families navigate the difficult decisions and emotions surrounding the loss of a loved one. Our team of experienced professionals is dedicated to guiding you through this difficult time, offering support and comfort every step of the way. From the moment of death until the final rituals, we make sure the departed is treated with the utmost dignity and respect. Our team of professionals is working hard to carry out honorable funeral rites for your loved one.
We're here to help
Submit your concern and we will get back to you within 5 minutes**