Select Your Location From Dropdown List
Cremation Services In Rameswaram
Last Journey is not just about honoring the deceased, we also provide a framework for supporting the emotional needs of grieving families during a challenging and painful time. Our professionals are trained to approach grieving families with compassion and empathy. We understand the emotional turmoil the family is experiencing and offer a caring and understanding presence.
Steps To Be Done
Effortlessly plan a dignified farewell with our 3-step process - Quick, Reliable, and Hassle-Free.
Testimonials
The prayer meeting organized by the Last Journey captured the personality and essence of my beloved
Sandeep Anand
Funeral Services
The services provided were exceptional. They took care of everything and made sure our loved one was laid to rest with dignity.
Monika Sharma
Funeral Services
Thank you for fulfilling my mother's last wish. Your team successfully managed to cremate my mother at her birthplace.
Anukool Sachdeva
Funeral Services
Cremation Services In Rameswaram
The pain of losing someone, whether it's a family member, friend, or someone close to you, can be incredibly difficult and overwhelming. Grief is a natural response to loss, and it can manifest in various ways. Everyone experiences grief differently. There is no right or wrong way to grieve, and the process can vary in duration and intensity from to person.
Why do people choose Rameshwaram to cremate their loved ones?
Rameshwaram, located in the Indian state of Tamil Nadu, Holds immense religious significance, primarily in Hinduism, making it a renowned pilgrimage destination. At its heart lies Ramanathaswamy Temple, a sacred shrine dedicated to Lord Shiva, recognized as one of the twelve Jyotirlinga temples in Hinduism. The town is indelibly linked to the epic Ramayana, believed to be the site where Lord Rama constructed a bridge to rescue his beloved Sita from the demon king Ravana in Sri Lanka. Rameshwaram is situated by the sea, and the ritual of cremation often involves immersing the ashes in the sacred waters of Agni Theertham. This act is believed to purify the soul and release it from earthly attachments.
Rameshwaram is a popular Pilgrimage destination, and many people choose to cremate their loved ones here as a way to combine the religious significance of the place with the final rites of their family members. It allows them to pay their respects to the deceased while seeking spiritual solace. Many Hindus believe that cremating their loved ones in Rameshwaram can help purify the departed soul and free it from the cycle of rebirth (moksha). The idea is that the cremation in such a holy place can lead to the soul's liberation. The choice of cremation location can vary among individuals and families based on their religious beliefs, customs, and personal preferences. While Rameshwaram is a popular destination for cremation, Hindus may also choose other sacred places or local cremation grounds based on their cultural and regional traditions. Cremating a deceased person's dead body and transporting it from Lucknow to Rameshwaram or other places involves several steps, following a specific procedure and respecting cultural and religious customs. Here are some steps to be followed by Last Journey:  
1. Freezer Box Services: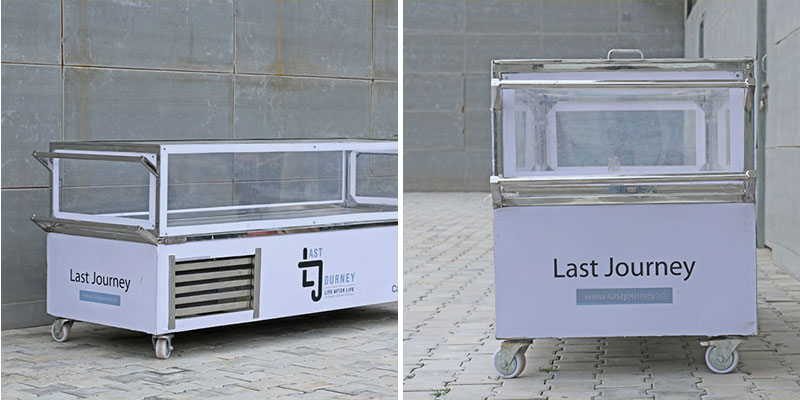 A Freezer box is a refrigerated container used to store the deceased's body to prevent decomposition until the funeral or cremation arrangements are made. Freezer box services are also used when the deceased needs to be transported over long distances, especially in cases of transferring a deceased person's body from one location to another, often internationally. The low-temperature storage helps preserve the body during transit. These specialized refrigerated storage units serve as temporary storage, such as when the family is making funeral arrangements, when there are delays due to legal or logistical reasons, or when the body needs to be transported over long distances. The Last Journey maintained freezer boxes under careful monitoring and professional handling to ensure the dignity and respect of the deceased. Families may choose to customize the use of the freezer box based on cultural or religious traditions. We offer families the time and flexibility needed to make funeral and memorial arrangements while ensuring that the deceased remains in the best possible condition. You'll need to buy a freezer box if you want to send a deceased person to another nation. The cost of renting our dead body freezer box varies depending on location.
It's important to note that Last Journey's professional team has the expertise and equipment necessary to handle freezer box transportation professionally and with sensitivity. Families can rely on these services to ensure the respectful and dignified transfer of their loved one's body while preserving its condition.
2. Dead Body Transportation:
Dead body transportation services are designed to transport the deceased person's body from the place of death, such as a hospital, home, or other place to a chosen location for funeral services, cremation, or burial. Last Journey ensures that the transportation of the deceased body within the local area or over long distances which may involve different cities or states.
We handle all aspects of transportation planning, including obtaining the necessary permits and documentation required for the legal and safe transfer of the deceased. Families may choose to be present during the transfer or meet the deceased at the destination. All of this involves preparing for transportation, gathering the necessary paperwork, and budgeting for costs. Our service for moving dead bodies spans all of India.
It's important to note that Last Journey plays a crucial role in ensuring that the deceased is handled with care and respect as they are moved to their final resting place or prepared for funeral ceremonies. Families can trust that our professionals will handle the transportation with sensitivity and professionalism during a difficult time. 
3. Hearse Van Services:
Hearse van decoration is the practice of adorning the hearse vehicle used in funeral processions with various decorative elements to pay tribute to the deceased and create a solemn and respectful atmosphere. Arrange a reservation for the funeral vehicle of the deceased's choice as another way to show respect. The Last Journey team offers a choice of hearse vehicles and decorates them out in eye-catching floral adornments as requested. Services inside the hearse vans are equally important for calming and comforting the deceased.
It's important to note that hearse van decoration may change depending on cultural, religious, and regional preferences as well as the services provided by the Last Journey. We work closely with the family to understand their preferences so that we can design a presentation that really respects the departed.
4. Cremation Services:
Cremation services are designed to facilitate the cremation process while providing support and guidance to grieving families. Last Journey helps families make the necessary arrangements for cremation. This includes completing the required paperwork, obtaining permits, and scheduling the cremation. We can assist in planning memorial services. In order to assist families in dealing with their loss both during and after the cremation procedure, our professionals offer support and resources. We handle all necessary documentation and legal requirements associated with cremation, including death certificates and permits. we'll handle everything so you may spend this difficult time with your loved ones and friends.
It's important to note that our professionals provide a comprehensive and supportive experience for families during a challenging time. We guide families through the process while respecting their individual wishes and ensuring that their loved one is treated with care and dignity throughout the entire cremation process.
5. Asthi Visarjan Services:
Asthi Visarjan is a deeply spiritual and emotionally significant ritual in Hinduism. It signifies the belief in the eternal cycle of life, death, and rebirth and it allows the family to bid a final farewell to their loved one while seeking blessings for their soul's onward journey. The specific customs and rituals associated with Asthi Visarjan can vary among different Hindu communities and regions. Last Journey provided assistance and support for families in conducting the ritual of immersion or scattering of a deceased person's ashes. The last Journey team helps to ensure that this sacred Hindu ritual is performed with care, respect, and relevance to the cultural and religious customs.  We ensure that Ashti Visarjan proceeds smoothly, allowing the family to focus on their spiritual and emotional needs.
It's important to note that families can concentrate on their emotional and spiritual connection to the departed during this solemn ceremony since our professionals ensure that all logistical and ceremonial components are handled professionally and compassionately. Families have the flexibility to customize the Asthi Visarjan ceremony to align with their specific cultural, religious, and personal preferences.
At Last Journey, we create a supportive environment where family and friends can come together to mourn and find comfort in the presence of others who share their grief. We offer a safe atmosphere where people can express their feelings in the company of friends. Our professionals can guide families through the process, helping them make informed decisions about burial, cremation, services, and other logistical details.
Our aim is to provide a meaningful and respectful way to honor the deceased while offering support and closure to grieving family and friends. We create a supportive environment where family and friends can come together to mourn and find comfort in the presence of others who share their grief. 
We're here to help
Submit your concern and we will get back to you within 5 minutes**