Select Your Location From Dropdown List
Pandit for Funeral Services
At Last Journey, we know that every detail matters; thus, our customizable Antim Sanskar Samagri can designed to cultural preferences.
10,000+
Successful Services
Steps To Be Done
Effortlessly plan a dignified farewell with our 3-step process - Quick, Reliable, and Hassle-Free.
Testimonials
Thank you for fulfilling my mother's last wish. Your team successfully managed to cremate my mother at her birthplace.
Anukool Sachdeva
Funeral Services
The services provided were exceptional. They took care of everything and made sure our loved one was laid to rest with dignity.
Monika Sharma
Funeral Services
Despite the COVID situation in Delhi, your team organized for a dignified and graceful farewell of my mother.
Ruchi Sharma
Funeral Services
The pain of losing a loved one can turn your world upside down. Especially during those times, each thing may feel like a downer. This low phase also brings with it a lot of other responsibilities. Conducting a respectful funeral service is one of them. We understand your pain and want to assist you through this hard time. As per the religion, caste, and community, our funeral rites vary. We may not always be aware of all of them. Many times even our elders don't seem to remember the customs, and it can lead us to a lot of confusion. But no need to worry, as The Last Journey has got your back. Our Pandit for Funeral Services will help you throughout the ceremonies, so you won't have to stand alone.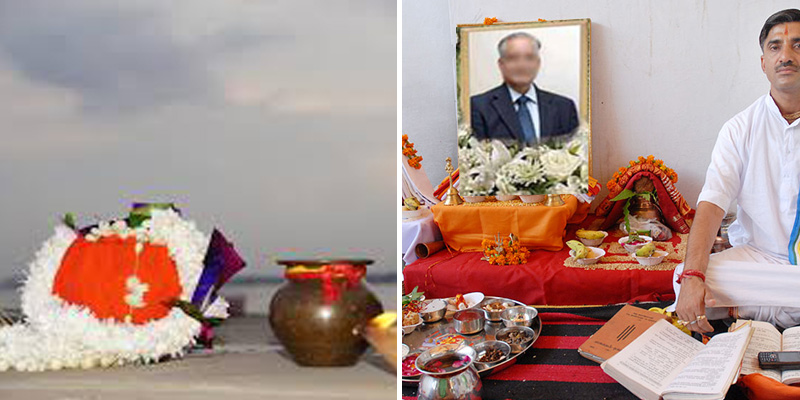 The Last Journey will arrange for you a Priest/Pandit for last rites. Pandits are well-read and knowledgeable regarding customs and traditions. We will provide you with experienced pandits who will help you in clearing all your confusion. They will guide you on how each ritual has to take place, when, where it has to be performed. A Pandit for last rites will also tell you about each item (Samagri) that you may need to perform the last rites. Looking for a Pandit at odd hours can get really troublesome. We assure you of the timely arrangement of the Pandit for funeral services. When the loved one is about to pass away, you can reach out to us and our Pandits will visit you. They will recite mantras from sacred texts as it helps create a peaceful environment for the person at that stage. We understand the emotional pain of the moment, and all we want is for you to bid a proper farewell.
Pandit For Last Rites.
Our Pandit for Funeral Services will also prepare for the cremation service. The right information regarding the items, rituals, and cremation ground will be given to you. The Pandits will perform the required rituals at the cremation ground along with the lead mourner of your family. The Last Journey can't take the pain of loss away from you, but we can promise to make things easier for you. For the ceremonies of Asthi Visarjan, Chautha, and Tehravin, our pandit for last rites will assist you. They will guide and accompany you for each ritual to be performed. They will also conduct havans and puja to bring peace to the lost one and your family. The Pandit for funeral services is well-practiced will provide you with a full experience. They will explain the meaning and the need for each ritual you conduct. They will also translate and explain to you the mantras and texts of the sacred books. Understanding the true meaning of life will help you accept and pray for the deceased. Our team wishes the best for you and your family. You can trust us for any service you want at any time.
We're here to help
Submit your concern and we will get back to you within 5 minutes**