Select Your Location From Dropdown List
Freezer Box
Last Journey's freezer box services provide a compassionate and respectful solution to ensure your loved one is kept safe and secure until their final journey home.
4,000+
Successful Services
Steps To Be Done
Effortlessly plan a dignified farewell with our 3-step process - Quick, Reliable, and Hassle-Free.
Testimonials
I am so thankful for the caring and professional staff they made the process much less overwhelming.
Anirudh Das
Funeral Services
The services provided were exceptional. They took care of everything and made sure our loved one was laid to rest with dignity.
Monika Sharma
Funeral Services
Despite the COVID situation in Delhi, your team organized for a dignified and graceful farewell of my mother.
Ruchi Sharma
Funeral Services
Freezer Box Services in Kolkata
24*7 Freezer Box on hire in Calcutta
Timely delivery of freezer box at your doorstep
Dedicated staff for assistance
Designed to preserve the body of your loved one
Temperatures as low as 0-8 degree Celsius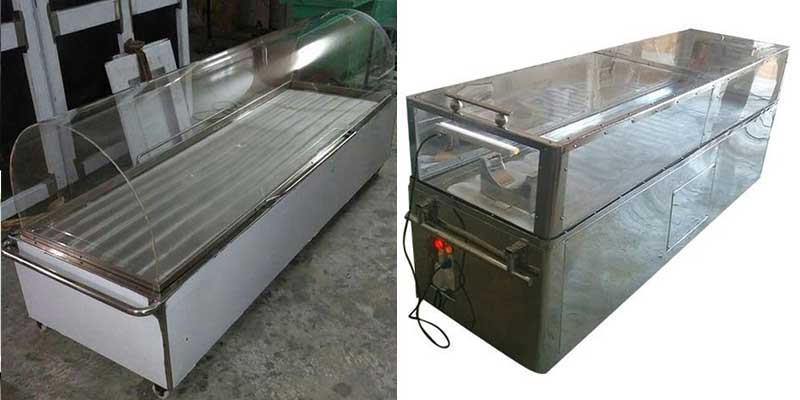 How does a freezer box preserve the body?
Last Journey freezer box has been specifically designed to preserve the deceased in hygienic condition and to slow down the process of decomposition. Everyone passes away and you never know when that may happen. There are situations when your loved ones stay in faraway places and you may have to wait to conduct the last rites or circumstances arise when you need to transport the deceased to another city or state to conduct the cremation/burial. You may need to wait for your loved ones to gather and till then you have to preserve the deceased so that the body does not contaminate with time. Our freezer box preserves the body of your loved one from tissue decomposition. The body is placed in a cabinet and the range of the temperatures of the dead body freezer box is between 0 to 8-Celsius degrees. One can regulate the temperature as per needs.
How to transport a dead body to another state?
Due to work and personal reasons, we are scattered all over the country to thrive and live our own lives. In many cases, we may want to transport the body of our loved one to their home city or state. It may either be the deceased's last wish or the place holds some sentiment values. To transport your loved ones in preserved and safe conditions, the Last Journey offers you mortuary vans/ambulances with built-in freezing systems. It is a well-maintained vehicle with the latest technologies and infrastructure to ensure a comfortable last ride. For your satisfaction, you can even travel with your loved one to make sure that everything is secure. For long-distance travel, our mortuary van is one of the most feasible options. The transport is accompanied by a professional driver and two staff members for any assistance such as loading and unloading. If you have any other queries or concerns just reach out to us and we will assist you 24*7.
Mortuary Van/Ambulance with freezer box in Kolkata
24*7 availability of Ambulance with freezer box
Dead body mortuary van on hire in Calcutta
Good quality freezing system to preserve your loved one
Professional driver and staff for assistance
The most difficult time of anyone's life is when we lose a loved one. The last Journey aims to provide you with some measures of solace by arranging for all the funeral requirements that you have. Ours is a team providing end-to-end assistance for cremation as well as post-cremation ceremonies of Chautha, Tehravin, Pindadan, Tarpan, and Asthi Visarjan.
Frequently Asked Questions
What is the temperature of a dead body freezer box?
How long can a dead body be kept in a freezer?
We're here to help
Submit your concern and we will get back to you within 5 minutes**