Select Your Location From Dropdown List
Dead Body Freezer Box On Rent
Last Journey's freezer box services provide a compassionate and respectful solution to ensure your loved one is kept safe and secure until their final journey home.
4,000+
Successful Services
Steps To Be Done
Effortlessly plan a dignified farewell with our 3-step process - Quick, Reliable, and Hassle-Free.
Testimonials
The prayer meeting organized by the Last Journey captured the personality and essence of my beloved
Sandeep Anand
Funeral Services
I am so thankful for the caring and professional staff they made the process much less overwhelming.
Anirudh Das
Funeral Services
Despite the COVID situation in Delhi, your team organized for a dignified and graceful farewell of my mother.
Ruchi Sharma
Funeral Services
24*7 Dead body freezer box on hire in Delhi
Mortuary Van/Ambulance with Freezer Box
Good Quality Freezing System (0-8 degree Celsius)
Designed to preserve the body of the deceased
Timely delivery and pickups by our team
Dead Body Freezer box Onwards Rent Price *
| | |
| --- | --- |
| Type of Dead Body Freezer Box | Approximate Charges |
| Fully Covered Dead Body Freezer Box | Rs. 5000 onwards |
| Dead Body Display Box | Rs. 6000 onwards |
| VIP Dead Body Freezer Box | Rs. 8000 onwards |
| Fully Box for Mortuary Vehicle | Rs. 5500 onwards |
What is a Dead Body Freezer box?
The last Journey provides a dead body freezer box on hire in Delhi. They are specifically designed to preserve the body of the deceased. Soon after demise, the body may start to decay and create a foul smell. Our freezer box services will save the deceased's body from such decomposition and will maintain its freshness. We aim to let you fulfil all your wishes and to leave the arrangements on us. You may need to preserve the body of the deceased person for various reasons such as dignified cremation or burial and autopsies. Last Journey freezer box has a cabinet used to place your loved one. It has a mechanism to preserve the body. The dead body freezer slows down the process of decomposition because of the low temperatures. Usually, the range of the temperatures of the dead body freezer box is between 0 to 8-Celsius degrees.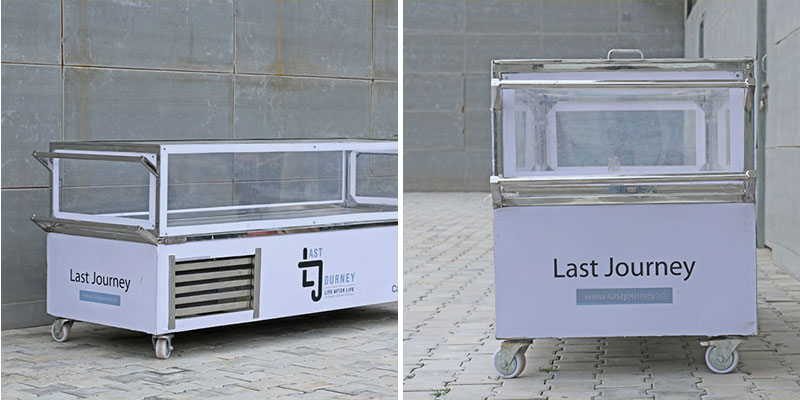 Last Journey freezer box services for the dead body
Dead body freezer box on hire in Delhi
Designed to preserve the body of the deceased
Installed cabinet with low temperatures to slow the decomposition process
The temperature of the freezer box is between 0-8 Celsius degree
The dead body freezer box act as a refrigerator for dead body. The purpose of the box is to save the body from decaying til the last rites. When there is a need for international repatriation of human remains, it is a basic obligation to carry the body in these types of boxes. The dead body deep freezer boxes also contain a digital temperature metre and controller that automatically adjusts the temperature to meet the needs of the body. Last Journey provides dead body icebox on rent services at reasonable prices all over India. Our boxes are made out of high-quality stainless steel that does not corrode quickly. We offer them at reasonable prices that also meets international quality standards. As soon as you call, the Last Journey team quickly provide a comprehensive humanitarian approach to serving your needs. In addition to a dead body cold storage box, we also provide a competent expert team at any hour or time.
What is Dead Body transport?
If you wish to transport the deceased's body to distant locations, we provide Mortuary Van Services with freezing systems. The ambulance with a freezer box is a well-maintained vehicle with updated infrastructure services. All our staff is professional and well experienced and will provide you with a stress-free journey. The stainless steel freezer box that will help to keep the dead corpse without decomposition is referred to as a low-temperature dead bodies freezer box. The box for freezing dead bodies is built of solid materials and is double-layered to prevent any bad odors from escaping. In a dead corpse freezer box, the temperature ranges from 0 to 8 degrees Celsius, which eliminates any unpleasant odor. With the aid of a freezer ambulance or ice box for a dead body, the dead corpse can be preserved for a long time. The freezer will allow everyone to have one last meeting with the deceased while retaining freshness. A Mortuary freezer box is your last resort. The Last Journey freezer box services in Delhi ensures you of timely and high-quality services. The Mortuary Van or Ambulance with freezer box is one of the most feasible options for transportation. If you have any other dilemmas or concerns, you can reach out to us, and we will guide you through it. We understand your situation and your worries and would like to make this time a little easier through our freezer box services.
Mortuary Van/Ambulance with freezer box
Dead Body Freezer Box on Hire In Delhi
Dead Body freezer box in Delhi NCR
Mortuary Van/Ambulance with Freezer Box for short and long-distance travel
Good Quality Freezing System for your loved one
Timely delivery and pickups by our team
The pain of the loss of a loved one cannot be imagined. Only the person going through it can understand how they feel. In such times, despite the hurt, one may have to fulfil the last rites of the deceased with full dignity and respect for the lost one and the family members. The Last journey offers you our hand to assist and guide you in each step of the way.
Dead Body Freezer Box in Noida , Gurgaon and Near Delhi-NCR
The most imminent part of the funeral services is the rituals and customs. There may be situations when you would wish to conduct them in faraway states and cities that hold a sentiment value for the deceased person. There may also be situations when the close family of the lost one is not present in the state or even the country, and they would like to bid a proper farewell to the deceased. To help you in such confusing situations, we offer you our Freezer Box Services in Delhi NCR.
Frequently Asked Questions
What is the adjective temperature of a dead body freezer box?
How long can a dead body be kept in a freezer.?
We're here to help
Submit your concern and we will get back to you within 5 minutes**