Select Your Location From Dropdown List
Funeral Services Kolkata
Our funeral services offer end-to-end assistance to help families mourn in peace. From transportation to cremation, we guide you with care and compassion through the difficult time of grief.
10,000+
Successful Services
Steps To Be Done
Effortlessly plan a dignified farewell with our 3-step process - Quick, Reliable, and Hassle-Free.
Testimonials
I am so thankful for the caring and professional staff they made the process much less overwhelming.
Anirudh Das
Funeral Services
Despite the COVID situation in Delhi, your team organized for a dignified and graceful farewell of my mother.
Ruchi Sharma
Funeral Services
The services provided were exceptional. They took care of everything and made sure our loved one was laid to rest with dignity.
Monika Sharma
Funeral Services
End-to-End Funeral Services in Kolkata
Funeral services for all ethnicities and communities
24*7 Ambulance/ Mortuary Van/Hearse on hire in Calcutta
Booking of cremation grounds for cremation/burial
Delivery of funeral rites Antim Sanskar Samagri Kit
Assistance in Asthi Visarjan, Pindadan, and Tarpan
Organizing prayer meets such as Chautha/Tehravin/Pujas
Pandit/Priest for funeral services
Bhajan Singers and Artists for prayer meet
Services of writing and publishing personalized obituaries
Funeral pre-planning in Kolkata
Last Journey believes that life is a journey and the end of this journey should also be celebrated as its inception. Though people mourn over their loss, some specific acts at a funeral can calm the soul of family members and bring a smile of satisfaction to their faces. We as an experienced team offer some unique services at the funeral ceremony to make it memorable forever for the family and friends.
We make arrangements regarding donation campaigns. The family and friends can donate essentials to needy people on behalf of the departed soul. The smiling faces of those people can satisfy the soul of a deceased person.
Our team also organizes a theme-based funeral ceremony. At this special funeral, all the family members and close friends can wear a specific costume or a specific color. This indicates that the departed person has lived his / her life cheerfully.
We provide equipment for the live broadcasting of the ongoing funeral ceremony so that the people who are unable to attend it can also take part in it virtually. Our efforts can lessen the distances and strengthen the bonds between beloved family members and friends.
Last Journey organization tries to sense the pain of grieving family members and friends and we put our all efforts into placating their grief through our services. The experienced and kind team members of our organization receive the disheartened people in a consoling gesture and they return with a satisfactory expression after performing the last rites of the departed person with the help of Last Journey team. Timely delivery of services, the least mistakes during the arrangements, and providing the best and most promising services are our priorities. We build strong personal connections with the mourning people and soothe them by being with them till the last of the funeral ceremony or any other final ritual.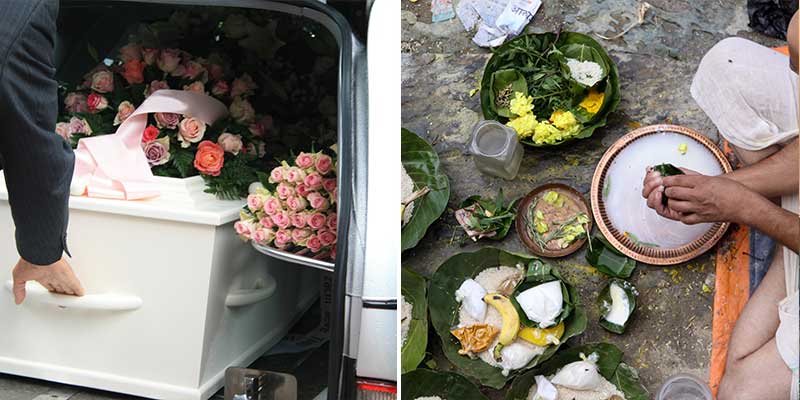 The Last Journey understands the pain of loss. We can't take that pain away from you but we can help you find some peace. Whether you lost a relative, family member, friend or loved one it can be hard to deal with it both emotionally and managerially. When a loved one passes away there is a lot that has to be done to bid a proper farewell. All the funeral rites have to be conducted following religious rituals and customs, one has to inform the relatives regarding the demise, arrange for the hearse, freezer box, pandit, and much more. Due to the excess of emotions and responsibilities, one may not understand how to move about everything. The last Journey offers you our hand to support and guide you through this difficult phase of life. We are born together, live together, and work together, then why not move on to the last journey together?  
Last Journey Funeral Pre-planning Services in Calcutta
While it may seem like an unnecessary thing to do, pre-planning your funeral is one of the wisest decisions that anyone can take. You will give yourself a chance to be remembered as you like and you will also be relieving your family from a lot of needless stress. They will know your last wishes and how you want everything to happen. Our pre-planning services include:
Will creation
Arranging legal formalities
Financial decisions
Funeral decisions (type of service, funeral products, floral arrangements, donations)
Expressing one's last wishes
Special Funeral Services in Kolkata
We are a team of empathetic and experienced individuals providing comprehensive funeral services. We believe that worrying about the funeral of your loved one should be the least of your worries. You can leave everything on us! To help you deal with grief the right, our special services include:
The funeral decor of the ambulance and prayer hall
Embalming Services
Counselling services such as counsellors and dog therapy
The Last Journey is available for you 24*7 all days of the week!
Frequently Asked Questions
We're here to help
Submit your concern and we will get back to you within 5 minutes**