Select Your Location From Dropdown List
Obituary
A well-crafted obituary is a powerful tribute to a life lived. Let us help you create a beautiful and meaningful remembrance for your loved one.
Steps To Be Done
Effortlessly plan a dignified farewell with our 3-step process - Quick, Reliable, and Hassle-Free.
Testimonials
The prayer meeting organized by the Last Journey captured the personality and essence of my beloved
Sandeep Anand
Funeral Services
Thank you for fulfilling my mother's last wish. Your team successfully managed to cremate my mother at her birthplace.
Anukool Sachdeva
Funeral Services
I am so thankful for the caring and professional staff they made the process much less overwhelming.
Anirudh Das
Funeral Services
Funeral Obituary Services in Delhi NCR.
Dealing with the death of a close one can trigger a lot of emotional turmoil. Amidst these hard times informing, the society and the necessary people about the demise can come upon as a challenge. The Last journey can help you handle this social responsibility by creating a memorable obituary for the loved one. Through our Funeral obituary services in Delhi NCR,  we make sure that news of death reaches the wider community. Our obituary will not only serve as an announcement of death but also honor the life of the lost one. An obituary is probably the last thing written about the deceased, and hence we will make sure that it is done right.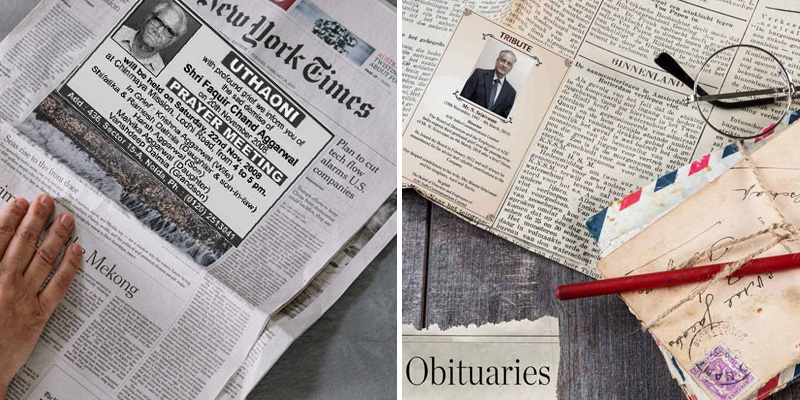 Personalized Funeral Obituary Services.
Our team will assist you in obituary printing, designing, and formatting. We also get it published in newspapers.  We will make sure to include every detail, including biographs, names of family members, and funeral information. A perfect obituary can save you from a lot of miscommunication. And our funeral obituary services makes sure that happens. Our personalized funeral obituary services are for people of all religions and communities. A personal touch in an obituary can do wonders in capturing the essence of the lost one. With your inputs, our team will include some life stories about the deceased including nature, hobbies, and interests. We also include photographs as they can help the readers recognize the loved one.
Obituary Printing and Publishing.
The last journey funeral obituary services in Delhi NCR offers many options in terms of obituary printing and publishing. It can be published in both large and local newspapers. Our obituary services include classified ads (ads that appear on distinct sections based on category) and display ads (ads that appear on the same page as, or on the page adjacent to editorial content). We also provide obituary printing in bookmarks or as cards. Working with empathy in our hearts, our team realized the importance of each custom and responsibility. We also understand the pain of losing a loved one and therefore assure you that our services will help you throughout the process.
Frequently Asked Questions
Why is writing an obituary important?
We're here to help
Submit your concern and we will get back to you within 5 minutes**